近日,"中国游客用热水泼空姐,大闹亚航航班"一事引发国内外媒体和网友的广泛关注,可谓沸沸扬扬,先来看一下整个事件的经过。


事件回顾

亚航空姐被中国乘客泼热水。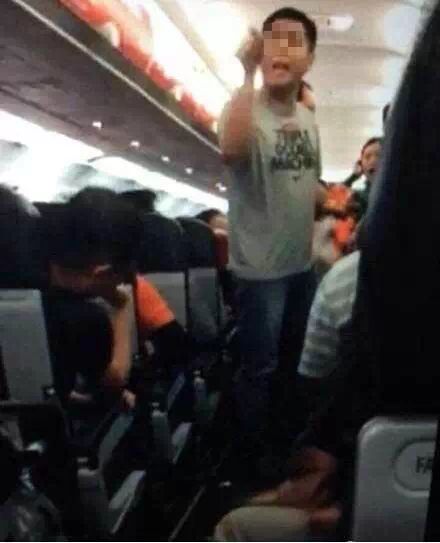 涉事乘客在航班上叫嚣,扰乱飞行安全秩序。


空姐在涉事乘客泼水后哭泣。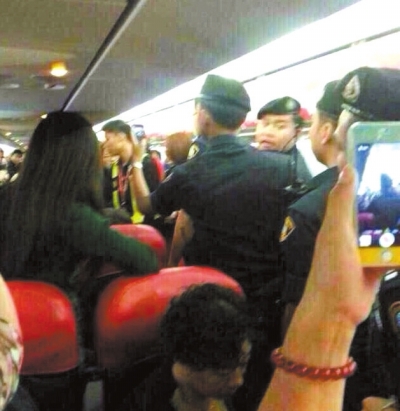 警方登机介入。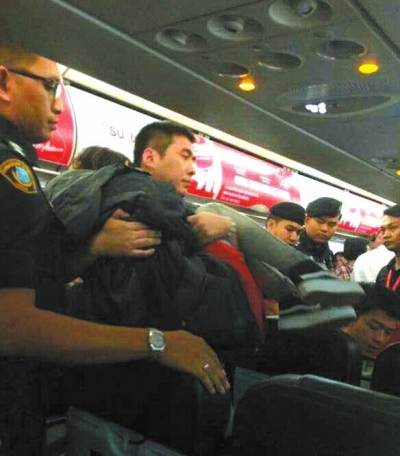 女乘客被抱下航班。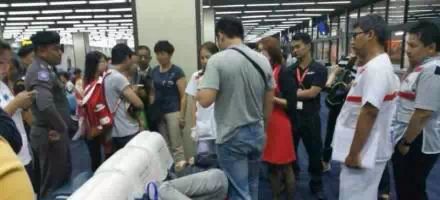 航班返回曼谷机场。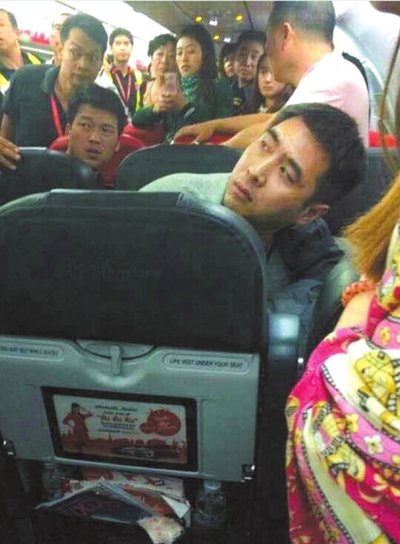 网传涉事男乘客。


11日晚,有网友发微博称,两名中国乘客在从曼谷飞往南京的航班上侮辱 (insult / humiliate) 空姐,致飞机中途返回曼谷机场。微博称,当天航班起飞后,两乘客座位不在一起,最终虽调到一起但过程很不愉快。在这之后男乘客向空姐(air hostess / flight attendant)索要开水,被告知收费后双方发生小摩擦,后女乘客拿泡好的方便面直接泼向泰籍空姐。此后,男乘客扬言炸飞机,女乘客要跳飞机,致使飞机被迫返航(return to the airport),泰国警方登机将两人带走,同机乘客下机在机场等候。

最终,现场参与吵闹的四名乘客向被泼热水的空姐赔偿50000泰铢。此外,因影响公共秩序(affect the public order),向空姐泼水的女乘客罚款200铢,另外三名乘客各罚100铢。亚洲航空不追究肇事者责任。肇事中国乘客在缴纳罚款(pay the penalty)后,已于12日晚获准乘飞机离开泰国。


针对此次事件,国家旅游局13日着手调查核实并发通知称,4名中国游客在亚洲航空曼谷飞往南京的航班上出现的不文明行为(uncivilized behavior)严重扰乱了航班正常秩序(normal flight procedures),致使航班返航,影响了其他乘客的行程,涉事游客已受到罚款及支付赔偿的处罚。此事件系极个别游客所为,但已严重损害了国人整体形象(tarnish the image of the Chinese people)。


据悉,江苏省旅游局要求该省旅游协会将涉事4位游客的不良行为纳入个人信用不良记录(bad personal credit records),这就意味着,省内大小旅行社,都不会再为其提供旅游服务。涉事游客今后想跟着旅行社出游,恐怕有点"悬"。


Chinese Passengers Chastised for Brawl on Thai Flight

In the latest scandal to taint the image of Chinese tourists abroad, four Chinese passengers grabbed headlines for causing chaos on a Thai budget flight, forcing the aircraft to return to Thailand.

A couple on a China-bound AirAsia flight had a spat with the flight crew over the seating arrangement and hot water.

The couple, who were not seated together, demanded to switch seats so they could sit together when they boarded the plane. They then requested hot water when the plane was climbing, which was served only after the plane reached cruising altitude, according to a passenger surnamed Wu.

The man, already annoyed by the water delay, had another fight with the flight attendant over payment and a receipt for the hot water, Wu said.

"A flight attendant who could speak Chinese came over to explain the situation, but when she turned around, the woman poured the hot water on her back," said another passenger surnamed Zhou.

The in-flight brawl forced the plane to return to the airport in Bangkok, where the couple and two other passengers involved were taken away by Thai police. They were required to pay compensation of 50,000 Thai Baht ($1,525) to the flight attendant and a small amount of fine. AirAsia said they will not sue the passengers.

However, it is reported that after arriving in Nanjing, they refused to get off the plane, asking the air crew to issue a statement to "clear all the rumors" on the Internet.

Afterwards, China National Tourism Administration issued a statement, saying the passengers' behavior has "severely tarnished the image of Chinese people." It vowed to probe the case and punish the passengers involved by including them in a travel blacklist system in their home province of Jiangsu.


相关词汇: "空怒族"兴起

"空怒"族(air rage tribe),是指因航班延误而产生失控行为的群体。在漫长的航班延误后,变得愤怒的乘客有时甚至会袭击机场工作人员,人们给这些暴躁的乘客发明了专属名词"空怒族"。由于经常有飞机晚点起飞,致使"空怒族"暴力事件不断增多。


Violent attacks frequently erupt at airports with passengers venting their rage on airport staff and cabin crew over a summer of grinding delays. The constant delays have seen mobs of angry passengers mount.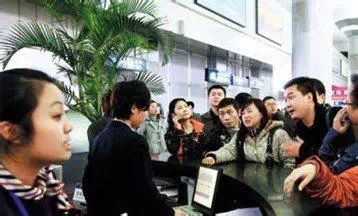 选择廉价航空前必读


亚洲航空公司(Airasia Airline)是马来西亚的一家航空公司,是亚洲地区第一家低成本航空公司(budget airline company),又称为廉价航空公司,闹事乘客气性那么大,显然是没了解廉价航空的"规矩"和"廉价策略"。廉价航空都有啥规矩呢?




(图片来源:@央视新闻 央视评论员组出品)


闹事乘客显然不了解,在廉价航空上提供开水是收费服务,在掏钱后还提出要机长道歉、提供开水发票等无理要求实属无理。坐飞机出门旅游,还是需要多做做功课,廉价航空有很多的限制条款和收费服务,但这些都不是在飞机上闹事违法的理由,希望每个人都能维护良好的文明形象,冷静克制和理性协商来解决问题。
(来源:网络综合整理)



关注微信公众账号:英语环球NEWSPlus